Global Action Plan Ireland is an environmental education organisation leading a sustainability action plan with the aim of creating sustainable communities across Ireland.
GAP focuses on people and how they can take practical action and facilitate long term behavioural change in their everyday lives for a more sustainable life, community, and world. GAP Ireland is part of GAP International – a global network of organisations in over 27 countries working together to achieve this mission.
SUSTAINABILITY IS OUR MISSION:
Our mission is to support people to live more sustainable lifestyles, by offering practical yet creative solutions that inspire people to act.
Equally important, GAP programmes empower individuals to change their long-term consumption habits with sustainable living tools and programmes.

What we do and who we work with
In responding to environmental challenges and working to achieve our vision of creating sustainable communities, we deliver programmes in environmental education and climate action, global citizenship, the Sustainable Development Goals and community led action. We have three main programmes areas and these are managed and delivered by a national team of expert facilitators. These are:
Primary and Secondary Schools
Community and Youth Groups
Corporate and Businesses
As part of our community programme, We run a successful community garden in Ballymun called the GLÁS Community Garden and is open to volunteers all year round and provide support to communities groups who are managing community gardens around Dublin.
Measuring Impact
GAP programmes introduce sustainable habits and lifestyle changes, but measurement is key to determining the success of these changes. Correspondingly, we measure the impact and savings of participants actions and use the results for support and feedback.
GAP has reached over 180,000 participants in our 9,796 workshops and programmes from 2001. Together, these participants have saved over 70 million litres of water, and over 590,000 kilograms of CO2 from being emitted. Our recycling workshops have helped save over 1,000 kilograms from going into landfills and have made almost 350,000 kWh in energy savings. GAP's programmes are designed to promote social inclusiveness where we ensure that those who are most disadvantaged have access to the programmes we deliver and are relative to their current situation or context.
Measurement of environmental impact is a key metric in continuing to develop our own resources.
---
STRATEGY 2016: One Earth. Act now.
Our goal is to inspire and support people to take practical steps towards creating sustainable communities.
These are the values by which we work: collaborative – empowering – ethical – inclusive – innovative. Furthermore, we commit to running our own organisation in as environmentally responsible a manner as possible.
GAP was established in 1995 as a small environmental charity, operating from shared premises in inner-city Dublin. Since then, GAP has established a national role maximising the impact communities have on environmental problems.
This strategy provides a blueprint for GAP's development. Moreover, it empowers as many communities as possible to adopt a greener lifestyle and play their role in protecting planet Earth.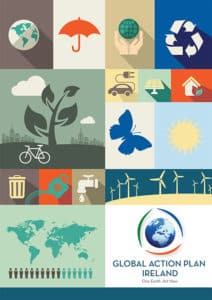 We congratulate Board, staff and supporters – past and present – on their achievements over the past two decades. As a result of this, we can continue to work to create sustainable communities throughout Ireland.