Let's Talk Science – #BallymunScienceFestival with The Rediscovery Centre
The Rediscovery Centre & Global Action Plan are coming together again for our annual interactive Let's Talk Science Festival in Ballymun!
This year, Let's Talk Science will help you explore the fun world of Science and Climate Action. This exciting free festival is a unique opportunity for all the family to have fun and explore science, technology, engineering and maths.
Let's Talk Science is open to people of all ages – come along to discover and learn about the life in our oceans and on land, renewable energies and your food. Find out the science behind climate change and what you can do to help! We will have:
• Interactive exhibitions and demonstrations
• Messy hands-on experiments
• Intriguing discoveries
• Games and fun
The Lets Talk Science Festival is funded by Science Foundation Ireland.
---
Tesco Bag Pack in Santry 1st & 2nd November
Global Action Plan, in partnership with Youth Foundation of Ireland, is hitting the tills of Tesco in Santry on the 1st and 2nd of November to pack bags in aid of climate action. We will be helping each and every person passing through with their bags, having chats about sustainability and climate action and hopefully raising some money on the way too to support our outreach programmes around Dublin.
We are looking for volunteers to join the Global Action Plan team on both days, so if you are free, please get in contact on 01-8832185 or by email [email protected]
We would love to have you join our team for the day!
---
UN Poverty DAY 17th October 2019
Join us for 'Project Poverty' – an art exhibition showcasing wonderful creations hand-made using reclaimed waste materials!
According to the United Nations this year marks the 30th anniversary of the adoption of the Convention on the Rights of the Child (UNCRC) on 20 November 1989. This landmark human rights treaty sets out the civil, political, economic, social and cultural rights of every child, regardless of their race, religion or abilities.
Come along and take a look at artistic expression of what poverty is and the forms it can emerge as as depicted by youth from Ballymun and the surrounding areas!
For more information contact: [email protected]
---
Global Citizenship Education 2019 – training for school leaders and teachers
Come and join us for our first training which will bring together school leaders (principals, coordinators) and teachers to work together on GCE!
Our free training will focus on the implementation of GCE in the school and classroom, while bringing alive the concepts of development education and the Global Goals!
Participants will leave with our updated toolkit and accompanying resources to bring GCE back to your students.
RSVP your school representatives here: https://tinyurl.com/yy6w59mq
For more information contact: [email protected]
---
Storytelling for families at GLAS Community Garden
Come and join us for an afternoon of stories, songs and games in GLAS Community Garden in the heart of Ballymun for National Heritage Week.
In the refuge and peace of the Community Garden, be transported into a time of old, of mystical and myth, by a professional storyteller, whom will guide children and adults through stories of our past, present, and future and bring Irish folklore to life. Throughout the garden, we will also create spaces to explore pastimes and games from our previous generations throughout the garden.
Check out our event on Facebook to find out more!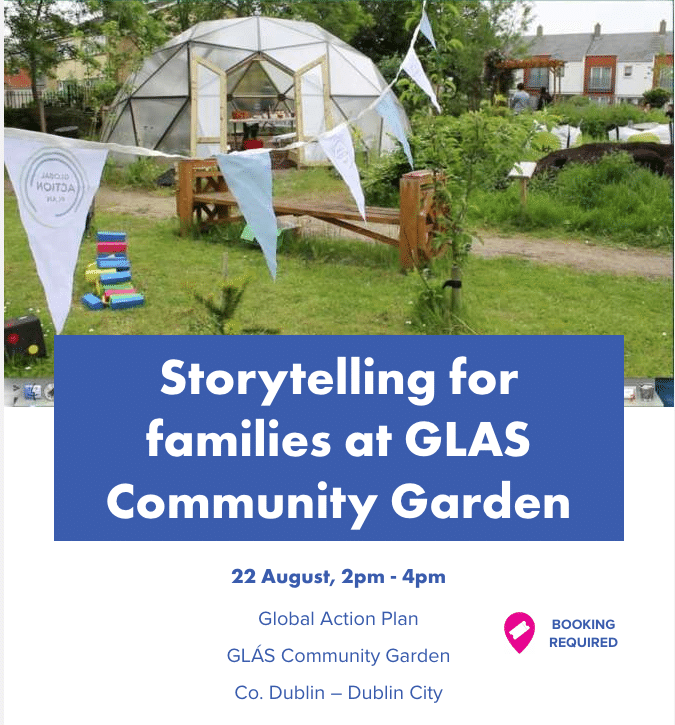 ---
The Power of Growing our Own : 8th June 2019
We are very excited to present to you own upcoming workshop co-funded by Bridge 47 and The European Union; The Power of Growing our Own'.
This 1 day workshop will take place in the Axis Theatre and the Global Action Plan's very own garden (GLÁS Community Garden) in Ballymun on Saturday, the 8th of June 2019.
We are bringing together 5 community garden groups. The purpose of this workshop is to up-skill these gardeners in techniques for organic and sustainable food production while promoting the UN Global Goals.
The first half of the day will be run by Aine (Program Officer) in the Axis Theatre. This part of the day will concentrate on The UN Sustainable Development Goals ( Global Goals). The UN Sustainable Development Goals ( Global Goals) have given us a set of universal activities and a framework within which to build a better and more equal society for all. In this workshop we will explore:
What the goals are;
The importance of community gardens for sustainable cities with reference to the goals;
How we can create a sustainable community garden and raise awareness of global issues at the local level with the goals.
The second half of the day will be led by expert gardener Sharon. Sharon will directly up skill participants in gardening techniques and cover the following:
Composting;
Know your Soil: how to recognize the type of soil you have and how to improve it;
How to test your soils PH;
Soil fertility and fertilizer use;
Wise watering: Rainwater harvesting etc;
Planting for pollinators and habitats;
Fruit and vegetable growing.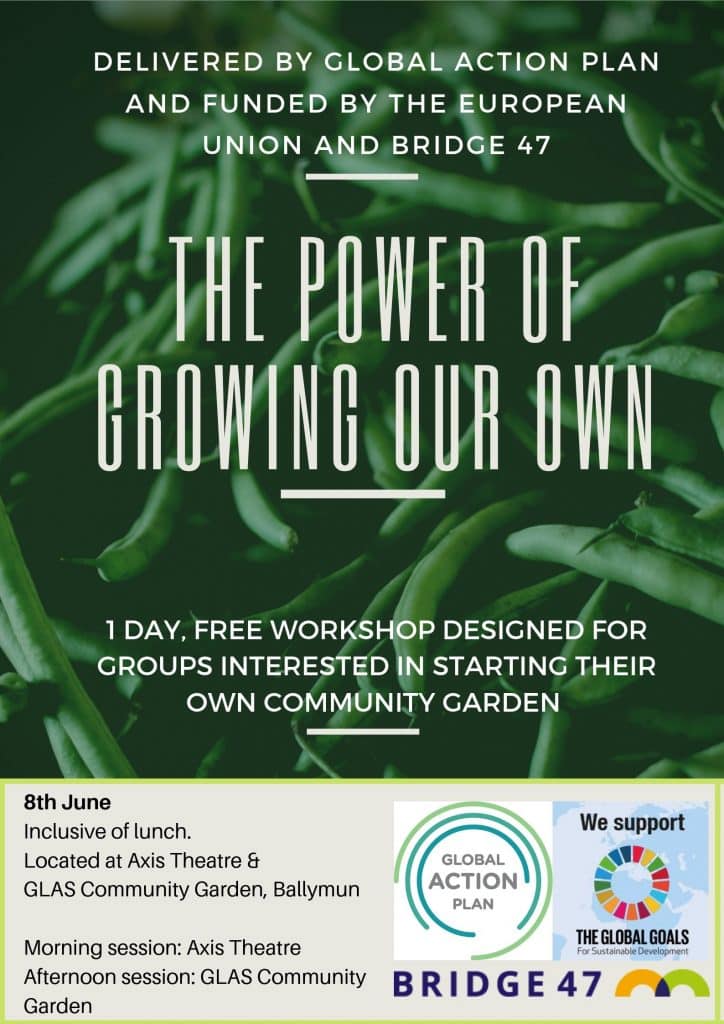 ---
National Biodiversity Week : 23rd and 25th May 2019
To celebrate National Biodiversity Week 2019 we are proud to present with the Irish Environmental Network and National Biodiversity Week Ireland, two engaging workshops.
Join us at the GAP Community Garden in Ballymun at our family-friendly events to learn how to:
-Grow your own food at our 'From plant to plate' workshop on Thursday the 23rd of May at from 11-1pm
-Learn learn more about the great work of bees at our 'Bees for biodiversity' workshop on Saturday the 25th of May from 12-2pm
Please register your attendance at [email protected] as places are limited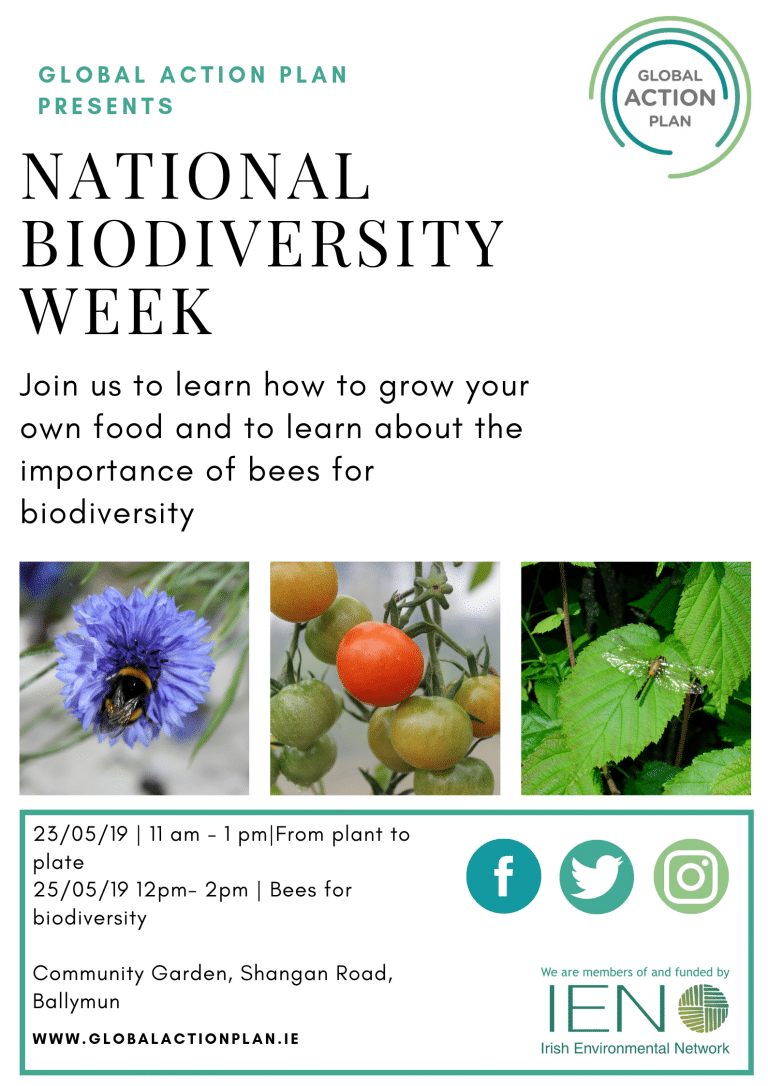 ---
UPCOMING WORKSHOPS AND EVENTS:

'Food for Thought!'
The Let's Talk Science Festival celebrates Science Week 2018
Thursday 15th November, 6 pm – 8 pm and Saturday 17th November, 12 pm – 5 pm
At the Rediscovery Centre, The Boiler House, Ballymun.
Global Action Plan Ireland celebrates science week with a series of events in conjunction with the Rediscovery Centre on Thursday, 15th and Saturday, 17th November 2018.
Supported by Science Foundation Ireland, the Let's Talk Science Festival aims to celebrate and promote the contribution that science makes to society – past, present and future; and to encourage and inspire public perception of science and technology to make them more accessible for the local community and the general public.
On Thursday 5th November, we have an evening to stimulate the senses as the festival looks at the Science of Food. This adult-only evening features a variety of demonstrations, speakers, information stands, and hands-on activities, including alcohol alchemy, science of edible seaweed, coffee chemistry, science of composting, how to make cheese, the science of bread, the energy harnessed from waste food and the impact of palm oil.
Exhibitors include This is Seaweed, AgriAware, Global Action Plan, Rediscovery Centre, DCU and IT Tallaght.
Please note: Thursday the 15th is an Adult only event. Festival organisers reserve the right to check photo ID and to refuse admission to anyone under the age of 18.
On Saturday 17th November, we have a family-fun day packed full of exciting activities aimed at stimulating children's curiousity and interest in the fun world of science. From sensory science, chemistry of smells, science of chocolate, making liquid spheres, to body science, there is something for everyone! The highlights include:
Interactive exhibitions and demonstrations
Messy hands-on experiments, including making gel spheres, hunting for bugs, making light from potatoes and lemon volcanos!
Intriguing discoveries, such as the energy from waste food, the chemistry of smells, how food affects the immune system, biotechnology and brewing, how to make cheese, and the magic of coffee.
Theatrical shows, including Imaginosity, Dublin Children's Museum, who will present Dr.Osity's amazing live and interactive 'Body Science' show! This fully interactive show shows the magic of the body and how it works…from top, to toe!… and shows children all about their bodies and just how they work.
Show times: 12.30pm, 1.45pm and 3pm
Please note: The event is free and you do not need a ticket to attend. During times of high visitor numbers, the Rediscovery Centre may operate a queuing system. Festival organisers reserve the right to check photo ID and to refuse admission to anyone under the age of 18.
---
JOIN A COMMUNITY GARDEN:
Our busy team is always looking for extra hands to join the GLAS Community Garden!
Keep active, get outdoors, meet new people, and learn all about organic food production!
We grow a wide range of fruit and vegetables for harvesting and are always available for expert tips and guidance so no experience is required.
To join our garden or find out more Sharon | 01 8832185