Action on Global Citizenship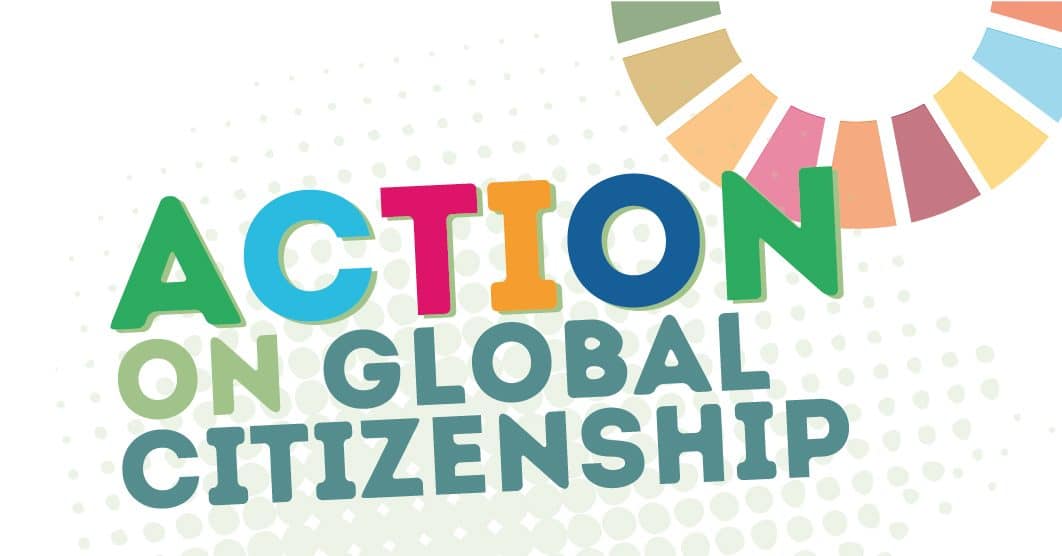 The 'Action on Global Citizenship' programme empowers students in primary and secondary education settings in Ireland to take actions for a better world as active global citizens.
Using the framework of Global Citizenship Education (GCE) and transformational learning through the lens of the United Nations Sustainable Development Goals and Climate Action, this programme supports the acquisition of knowledge (head), values & attitudes (hearts) and skills for action (hand) so participants can take appropriate actions to transform the world around them for the better. A key aspect of the programme's transformative learning pedagogy is to create space for learner led actions in a supportive environment.
Our impact so far
Since 2015 the Action on Global Citizenship programme has directly engaged with 23600 students and 306 teachers with a documented increase in knowledge, skills, attitudes and actions across the programme. For example in 2018 the 160 students who participated directly in the programme recorded a 38% increase in knowledge in the area of global citizenship and reported 33% increase in their collective actions in supporting a sustainable planet.
Quotes from participants:
"I learned how badly we are damaging the earth and by understanding the Global Goals, I learned that we can make a difference".
"You can change anything in this world if you put your mind into it."
See how you can engage with the programme below:

Book a Global Citizenship workshop for your class
Our Global Citizenship experts can deliver a workshop for your class. During the workshop we will explore issues and challenges that are important to you and your class through a global citizenship lens. Using activities from the Action on Global Citizenship programme, we will support your class in exploring the issues critically, looking at root causes and effect beyond their local area. After the workshop, your learners will be ready to dive further into the issues and challenges and with the right support, create campaigns and actions for change.
To inquire about a workshop in your school, fill in the Contact Form on our website, or chat with us directly through the chat function on this website between 9-5pm.

Action on Global Citizenship Teacher Toolkit
Action on Global Citizenship is GAP's BRAND NEW Teacher Toolkit containing 8 chapters walking you through the Sustainable Development Goals and Global Justice.  Within the resource, you will find 24 of our favourite activities fully-planned and resourced.
Launched in Spring 2017 and updated in 2019 and 2021 with new activities and content, this resource is perfect for CSPE/Dev Ed/Geography teachers nationwide! With this, your pupils will be one of the first classes to incorporate global citizenship into their coursework. As a result, educators can confidently explore Dev Ed & GCE issues through an environmental education perspective.
To download your free copy of this resource, complete this form and the toolkit will be available to download immediately.

Action on Global Citizenship Teacher and Principal Training: Webinar Training
In early 2021 we will run the first of our Global Citizenship Teacher Training and Principal Training for secondary schools explore the UN Global Goals (SDGs) through interactive and creative activities. We have adapted our training into a 4 part webinar series.

If you would like to attend a training please e-mail us at education@globalactionplan.ie 
The training will focus on how to:
Integrate a school wide approach to Global Citizenship
Use the resource in your classroom
Teach your students how to become champions of Global Citizenship
Our trainings will provide on overview of the entire toolkit & resources as follows;
Session 1: Exploring Sustainable Development around the world and an introduction to Action on Global Citizenship Toolkit (Chapter 1 & 2)

Session 2: Exploring our ecological footprint & implications of climate change on global justice (Chapter 3 & 4)

Session 3: Investigating causes of poverty and equality & examining climate change locally and globally (Chapter 5 & 6)

Session 4: Building sustainable communities & creating campaigns for change (Chapter 7 & 8)
Each session will refer to the United Nations Sustainable Development Goals, the WWGS Global Passport & reflection.
The toolkit works closely with the following curriculum links:
Key Skills for Junior Cycle (2014)
CSPE Specification of Junior Cycle Short Course (June 2016)
A large proportion of the 24 Statements of Learning
Within this bespoke training you will:
Develop a greater understanding of the UN Global Goals
Explore a number of interactive Development Education methods
Benefit from peer to peer learning
Make links to curriculum and CSPE specification
Deliver a kick-starter workshop with your students
To facilitate this, throughout the 1 hour, 4 part session we will use peer learning methodologies, giving you time to reflect, share, and learn from your peers.
As a result, participants leave with a critical understanding of global inter-dependence and environmental issues.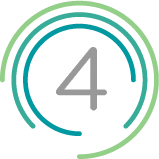 Action on Global Citizenship as Gaeilge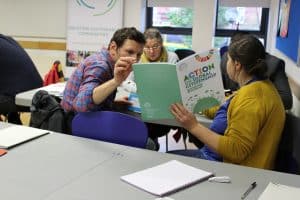 D'aistríomar ár n-acmhainn móréilimh 'Action on Global Citizenship' go Gaeilge! Déanfaidh sé seo Gaelscoils agus ranganna Gaeilge a fhostú leis an bhfoireann uirlisí agus bunóidh sé naisc churaclaim bhreise. Cuirfidh aistriúchán ár bhfoireann uirlisí ar ár gcumas ár dtraenáil a leathnú chuig níos mó múinteoirí agus príomhoidí atá ag iarraidh oibriú i dtreo cur chuige scoile uile i leith Oideachas Saoránachta Domhanda.