Biodiversity Week takes place this year from 13th – 22nd May. There are events planned all over the country, and we are proud to be hosting some of them.
Global Action Plan  are delighted to be running online and in-person events this year, which you can book here.  There really is something for everyone.
(You can find out more about Biodiversity Week at the Biodiversity Week website.)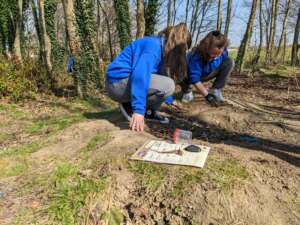 What better way to celebrate biodiversity than to take part in Outdoor Classroom Day on Thursday May 19th?
Outdoor Classroom Day is a great initiative, which encourages and supports teachers to take learning outside into nature. The idea may seem intimidating at first but there is  plenty of support available. Check out this website for ideas. 
If you are participating, register your school's activities. It's a great way to feel connected to other schools all over the world who are also taking part. 
If you'd like to arrange a workshop with GAP to support you in teaching and learning about Biodiversity and Outdoor Education, contact us at [email protected] or fill in our booking form.
'Taking almost any class outdoors can have incredible benefits on children's engagement and enjoyment of education and increase academic attainment. Research shows that even subjects that might seem to have little to do with the outdoors, such as literature or dance, can benefit from being taken outdoors.' (Waite et al. 2016)
The Benefits of Learning Outdoors
Having regular contact with nature is so important for children. The benefits to physical and mental health, as well as academic learning outcomes, are well documented. A survey carried out by Plymouth University found that "Learning in Natural environments" (LINE) benefited both teachers and learners (Waite, S et al, 2016). LINE had positive impacts for pupils in their enjoyment of lessons (95%), connection to nature (94%), social skills (93%), engagement with learning (92%), health and well-being (92%), behaviour (85%), and educational attainment (57%).
The good news is that more and more organisations now recognise the value and importance of connecting with nature through outdoor learning. Not only do our children stand to benefit hugely from learning outdoors, but by fostering a love of nature, we invest in the development of future stewards of the natural world, the home we share with so many species now sadly under threat because of human actions.
'No-one will protect what they don't care about
and no-one will care about what they have never experienced.' 
David Attenborough
 The National Council for Curriculum and Assessment has produced this excellent webinar full of practical and achievable advice from Irish teachers to assist others in taking teaching outdoors. It's well worth watching if you're wondering where to start.
Enjoy Biodiversity Week and Outdoor Classroom Day! 
We'd love to see what you got up to. Tag us @GapIreland to share your highlights.
If you'd like to arrange a workshop with GAP to support you in teaching and learning about Biodiversity and Outdoor Education, contact us at [email protected] or fill in our online booking form.
References:
Prisk, C. Cusworth H., (2018): From muddy hands and dirty faces…to higher grades and happy places. Outdoor learning and play at schools around the world.
Waite, S., Passy, R., Gilchrist, M., Hunt, A. & Blackwell, I. (2016) Natural Connections Demonstration Project, 2012-2016: Final Report. Natural England Commissioned Reports, Number215
What's your reaction?