About Sustainable Kildare
Global Action Plan, in partnership with Ducky.eco, are supporting the County Kildare Chamber to deliver the first ever Climate Action Championship in Ireland. The championship will run from October 2021 to June 2022 and aims to engage over 100 businesses and their employees through a series of climate challenges supported by an educational programme.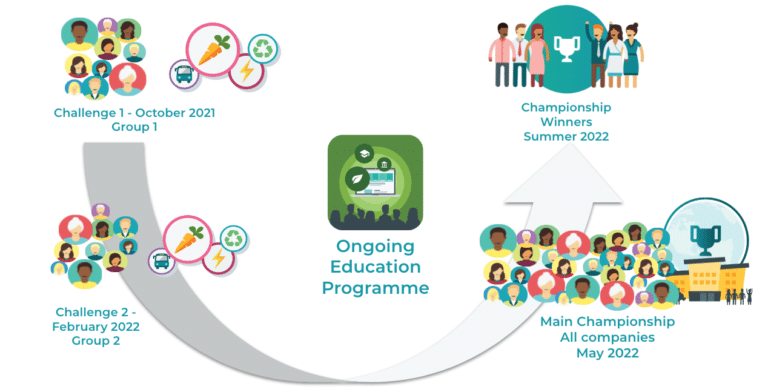 What are the aims of the Sustainable Kildare Climate Action Championship?
To engage businesses within County Kildare and the Chamber to think about climate action.
Empower employees to take action through challenges and educational workshops.
Raise awareness about climate action and personal emissions.
Equip businesses with the knowledge to implement sustainable businesses goals in the future.
How to join a challenge
To join a challenge – Click here to fill out the Registration form here or go to the Sustainable Kildare page – https://www.countykildarechamber.ie/sustainable-kildare/ complete the form on that page. We will be in touch with more information after you register on what the next steps are and when the next challenge will start.
Support during a challenge
Do you need support to get the challenge going in your company or are you having challenges logging onto Ducky? 
Your options – pick one that is best for you:
Read the FAQs below and see if you can find answer there
Call us at 01-8832185 during the working hours of 9-5pm
Email us at [email protected]
Create a support ticket here ->  Create a Support Ticket
Ducky Challenge FAQs
Ducky Challenge FAQs
All (or most) of your questions answered!
In the third Sustainable Kildare Climate Action Challenge, employees took part in a 3-week climate friendly challenge that allows them to track their personal CO2 emissions and compete against fellow employees and other businesses to become climate action leaders in Kildare.
Below are the final results. Congratulations to all the teams taking part.
Latest Sustainable Kildare News
GAP's "Sustainable Kildare" project came to an end in June. Read here who were the winners of our innovative climate challenge for businesses.
Read More »