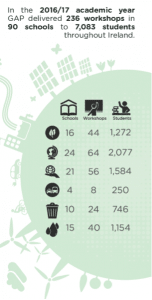 There are many aspects to environmental education. In response to this, Global Action Plan Ireland(GAP) has developed workshops around the six themes students can easily relate to and understand. Each workshop is tailored to student capacity to maximise understanding and ensure positive, sustainable behaviour change. These workshops also compliment the national curriculum in an interactive and engaging manner.
Each year GAP reaches out to thousands of students throughout the country to promote our message of creating sustainable lifestyles. In order for behaviour change to be successful, it must be long term. To facilitate this, each workshop is structured around peer and student-led activities. This captures the attention of students and engages them to develop action-oriented, impactful plans to effect positive change in their schools and the wider community.
A group of facilitators with backgrounds in education, development, natural sciences, and other related fields lead our workshops. As a result, participants benefit with the most up-to-date and practical information in this rapidly growing industry. Most importantly, students understand how to apply this information to their everyday lives.
Results
From 2001-2016, 140,000 students who participated in over 9,000 workshops, saved 501,000 kilograms of CO2 emissions from the atmosphere. This equates to 5,742 round trips from Dublin to Galway! As a result of our water workshops, students saved 70 million litres of water; that's enough to fill 875,000 bathtubs! Our recycling workshops have diverted 1,000 kilograms of waste from going into landfills. In terms of energy, students saved almost 350,000 kWh; that's about €65,000 euros saved! These savings resulted from simple, yet effective actions learned at the workshops. These actions range from learning to create your own compost from food waste, grow-your-own produce to reduce transport emissions, pledging to reduce shower times to 4 minutes (one minute in a shower uses 35 litres of water), to so much more.
Workshop Themes
We divide our workshop themes into primary and secondary school in order to structure them in the most age appropriate and engaging manner. Here is more information on each of our specific workshops:
Our Primary School Workshops:
WATER WISE WORKSHOP: (1st – 6th class)
A fun, hands-on workshop on water and the growing global need to reduce water consumption and pollution. This workshop empowers students to learn about water issues and take action to reduce their water footprint at home and in their schools. As a result, students question and discover why water conservation is important and how they can make the biggest impact.
TRANSPORT WISE WORKSHOP:  (1st – 6th class)
This workshop takes students on a journey through their own understanding of travel and transport. Using group games and student-led activities, students discover the impact different modes of transport have on the environment. This enables them to understand how their daily decisions influence the world around them. As a result, students gain insight on how individual action can lead to collective change.
WASTE WISE WORKSHOP: (1st – 6th class)
The idea of reducing, reusing and recycling is widely communicated, but WHY should we recycle and what BENEFIT is it providing? In this workshop, students learn key facts about the different types of waste and waste generation in Ireland. Additionally, they learn how long materials take to break down and innovative ways of reusing their waste. This is presented through group-led games and hands-on activities where students discover their impact on Ireland's waste.
ENERGY WISE WORKSHOP: (1st – 6th class)
Energy is all around us, it comes in many forms and has endless uses, but at what cost? Students discover what energy is and how we get it. Throughout the workshop, students engage in games and experiential activities to examine what it takes to create energy and the impacts using that energy has on the world. Students increase their knowledge on climate change, the causes of this global issue and the many ways that it can be combatted.
BIODIVERSITY WISE WORKSHOP: (1st – 6th class)
Takes the hunt for wildlife knowledge to your school! Students use group-based games to learn what biodiversity is and its value. The workshop can then be taken outside of the school grounds for a bug hunt as students get first-hand experience finding, examining and identifying various plants, insects, and mammals found on their doorstep.
GLOBAL CITIZENSHIP WORKSHOP: (4th-6th class)
Critically engages students with issues of what is equitable and just, and what will minimise harm to our planet. Exploring global citizenship themes enables students to grow more confident in standing up for their beliefs, and more skilled in evaluating the ethics and impact of their decisions.
Our Secondary School Workshops:
CLIMATE CHANGE WORKSHOP:
We present students with the most up to date climate change science and asked to critically look at the issue of climate change. Students will discuss & debate their views on climate change, specifically how it's presented in the media. Throughout the workshop, students take part in group activities that question the best ways to tackle climate change.
FOOD WASTE WORKSHOP:
Delves into the issues of food miles and food waste. Students gain an in-depth understanding of the impact of their personal food waste habits. Through student-led activities, they then discuss how to maximise their food efficiency while reducing the impact of transporting food.
GLOBAL CITIZENSHIP WORKSHOP:
Critically engages with issues of what is equitable and just, and what will minimise harm to our planet. By exploring global citizenship themes, students grow more confident in standing up for their beliefs and more skilled in evaluating the ethics and impact of their decisions.
WATER WORKSHOP:
This workshop tackles water use, waste and conservation. As a result, students gain the knowledge and skills to respond to the growing global need to reduce water consumption. Through group activities and discussion, students assess the difficulties and benefits of water conservation.
Every workshop takes place in the classroom and takes about 1.5 hours.
€150 for 1 workshop (Dublin City only)
€250 for 2 workshops [Greater Dublin Region only incl. Dublin (City, South Dublin, Fingal & Dun Laoghaire Rathdown), Kildare, Meath and Wicklow]
€300 for 3 workshops (Available nationwide)
For more information and bookings contact one of our education team:
[email protected] | (01) 883 2185
What's your reaction?