Irish Environmental Organisation marks World Water Day 2023
Ballymun based environmental organisation today marked UN World Water Day by highlighting the importance of small changes to our lifestyles.
Every year since 1993, World Water Day (22 March) raises awareness and inspires action to tackle the water and sanitation crisis. It is about taking action to tackle the global water crisis of the 2.2 billion people living without access to safe water.
"This year, the focus of the UN observance is on accelerating change to solve the water and sanitation crisis. The global campaign, called Be the change, encourages people to take action in their own lives to change the way they use, consume and manage water," said Hans Zomer, CEO of Global Action Plan.
At Global Action Plan, we provide training, educational courses and activities to change how we think about water, to highlight the many ways in which we can protect all water bodies, and to discover ways to use water more responsibly," said Zomer.  
The world is facing an imminent water crisis, with demand expected to outstrip the supply of fresh water by 40% by 2030. According to the UN, the world is seriously off track on Sustainable Development Goal 6 – Clean Water and Sanitation. The latest data show that governments must work on average four times faster to meet this Goal on time.
The recent landmark report "Turning the Tide, A Call to Collective Action" by the Global Commission on the Economics of Water states that water must be recognised as a global common good. 
"In order to understand and appreciate the value of water and the challenges we are experiencing in Ireland, organisations such as Global Action Plan are working with people of all backgrounds to explore ways to change our behaviour, and reduce unnecessary water consumption. If we want to see a better world, we all need to do our bit, and look closely at our habits, and the many options we have to reduce our impact on the environment." said Zomer.
<ENDS>
NOTES:
Global Action Plan is an environmental organisation focused on behaviour change.
It has published a series of practical tips on how to reduce household water use, and delivers workshops on water management.
See also: "Water, Water Waste and the Hidden Water in our Lifestyles"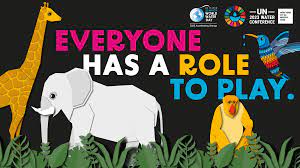 What's your reaction?