The Park Stewardship Programme has returned and we'll keep you updated on all of the great work St Josephs and Virgin Mary Boys accomplish:
---
ABOUT PARK STEWARDSHIP PROGRAMME (PSP):
This 10-part workshop introduces students to the concepts of sustainability and stewardship with hands-on workshops between classroom and parks on a range environmental themes. The objective is to protect and install value in our surrounding parks, communities and raise awareness of the importance of protecting the natural biodiversity that surrounds us.
---
WEEK 1 : Introductions &  WEEK 2 : Trees
Our groups of park stewards took to Poppintree Park today for their first outdoor workshop. What better theme to start on than the first living things you will see in the park – Trees.
The group had three aims:
1 – To know the tree you must become the tree.
The group designed themselves into a giant tree with roots, trunk, branches, bark, and leaves.
2- Identify the trees.
Using tree keys and their investigation skills the group was able to identify every tree they came across.
3 – Feel the tree.
It's easy to identify a tree with your eyes but what if you could only use your hands? This was a lesson learned with a lot of laughs as the students tried to identify the trees blindfolded.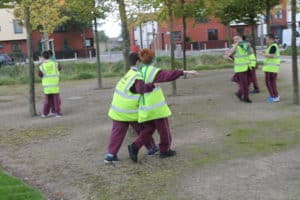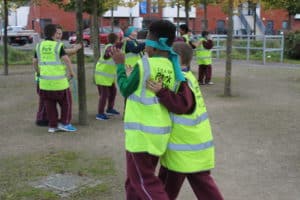 ---
WEEK 3 : Bug Hunt
The afternoon was filled with squeals and screams of excitement as the students found, caught and learned about bugs and where they are most likely to live.
Many bugs were discovered including wasps, spiders, ants, earwigs and even several frogs!
---
WEEK 4 : Mammal Track
Our Park Stewards from Virgin Mary Boys and St. Josephs have learnt about tracking native mammals this week, including squirrels and deer. Learning about mammal habitats, native species and footprints they were able to track and identify many of our native mammal species.
---
WEEK 5 : Energy and Climate Change (it rained!!)
How much energy does a hair dryer use ? The Park Steward students have been learning about energy. What sources of energy are renewable and nonrenewable, and how much energy various things use? Then the students discussed energy and its relation to climate change….
---
WEEK 6 : Litterpick
The litter pick is hard work, but also very rewarding as the group cleaned-up  Coultry Park.
From different types of rubbish, such as plastic bottles, glass, and packaging they collected almost 40 kg!
---
WEEK 7 : Wild Tea
Students from St. Josephs ventured into the Virgin Mary Garden this week. They tasted various herbs and even made their own wild tea to drink.
Students from Virgin Mary Boys School, planted daffodil bulbs, which will bloom during the spring and decorate the community garden!
---
WEEK 8 : Bull Island
All our Park Stewards took to the Bull Island nature reserve to put what they have learned about biodiversity and wildlife to the test.
The donned their binoculars and used all the stealth they could muster to explore the islands amazing sand dunes. Keeping quiet is an important part of spotting wildlife and it paid off….
All in a days work for a GAP park steward!
WEEK 9 : Tree Planting
This week boys from Virgin Mary school planted 2 oaks in their school ground. Oak is native to Ireland and can support up to 284 insect species! Once they have planted a tree, they made a pledge that they will look after those trees by checking regularly and coming back to water it if the weather is dry.
The Park Stewards of St Joseph's National School took a stroll up to Poppintree Park  with 2 rowan trees in hand. Their aim was to make sure they don't go back to school until they have been planted. If you keep your eyes out while walking the park you may notice a small tree beside a few bigger ones where the paths diverge. This is one of our Rowans just planted. If you follow the parks tree trail you will come across our second tree planted. The resident Rowan has died some years ago but has now been replaced and is ready to start impressing all the park goers with it's bright red berries come next year.
WEEK 10 : Graduation
Our park stewards in training have graduated to fully-fledged GAP Park Stewards.
They worked very hard to reach the level of park understanding and protection that they did. We wish them all the best in the future and we have no doubt that the local parks are now safer in their hands!
What's your reaction?