In the last two years there has been an uprising of youth engagement on climate change and the challenges that this is presenting in their lives and how it will affect their futures. With the General Election approaching, the theme of Climate Action was one of the key themes on the minds of youth. While they couldn't vote, they wanted to make sure that their parents and adults in their lives knew that this was an important topic for them and to consider this as they voted. As educators for sustainable development and global citizenship it is our role to help support our youth (and any other members of society) in voicing their concerns about climate change and to support movements like Fridays for Future and the Student Climate Action Network in their campaigns to support youth action. In responding to this need, we acted to help bring their voice to life.
On the 6th of February, ahead of the General Election and supported by our partners Patagonia, we visited a local primary school in Ballymun to hear their thoughts on climate change. The students were extremely engaged on this topic referring to the devastating impacts climate change is having on people and species around the world.
Environmental impacts
The posters created by the students included scenes of environmental degradation such as wild-fire, melting ice and how this is impacting species' habitats globally.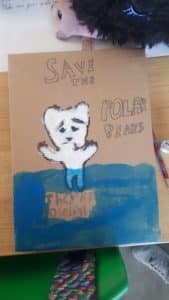 Climate Justice
This poster showcased how our world while viewed from far away may seem 'perfect'. To those not yet directly affected by climate change impacts the natural world might seem 'perfect'. The poster highlights how there are many local communities around the world facing the extremities of climate change now and that these impacts are heightened by injustices that limit the adaptive and mitigative capacity of local people to cope
 Government Action
Students also developed posters with a clear message for our government to take climate action now with the urgency the climate crisis demands.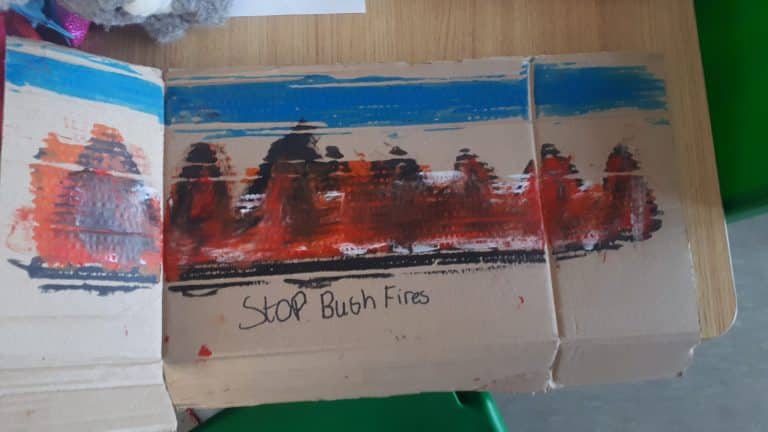 Individual action 
One poster a student made sets a good reminder for us all to be our own active citizens.  Taking local action no matter how big or small to protect the environment around us matters.
While the global climate conversation can be overwhelming, it is important to remember the actions we can take in our everyday lives too:
recycling our waste correctly;
joining or starting up a litter-pick in our schools and communities;
limiting waste in our lives;
buying second-hand;
mending items before buying new;
taking public transport when possible.
Simple actions like these are easy and are great steps to take towards leading more sustainable lifestyles for ourselves and the planet.
Help us continue our work to educate and support underserved communities around Ireland. There are many communities eager to learn and take climate action but just need support. By helping us you can ensure these communities get the educational tools they need to grow and develop in confidence that they can start their journey towards taking climate action in their lives and their communities.
A big thank you to Patagonia who provided resources for us to make our climate action posters with students from Virgin Mary Girls National School in Ballymun.
What's your reaction?